'Tatkal' is an emergency reservation made especially by late comers. Old school days remind that late comers were punished by missing out the class or the play, but the Indian Government seems to be lenient teacher and provides such reservations to people who are willing to pay an extra buck.
Tatkal scheme is applicable to more than 100 trains throughout the country. Booking of tickets just two days prior to the journey is possible under this scheme. This scheme came into effect on August 8th 2009. The tatkal booking opens at 8:00 hrs two days before the journey.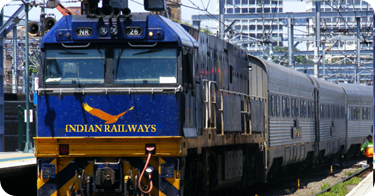 The tatkal charges are fixed at 10% of the basic fare for second class (sitting) passengers and 30% of basic fare for all other class passengers.
There are certain rules and regulations like tatkal booking are not permitted for First AC. Executive class of Shatabadi come under the Tatkal purview. Identity proof is not mandatory under tatkal reservation. No concessions are given to senior citizens in tatkal scheme. The delivery time is same in tatkal tickets so tickets must be booked accordingly. Opting for ladies and general quota is not allowed under Tatkal reservation scheme. Reservation in Tatkal Quota is available till the charts are made. On confirmed tickets no refund is available whereas 25% of total fare is refundable on non confirmed tickets.
Tatkal tickets are issued on the basis of actual distance of travel and not on the basis of end to end travel. The facility of change of name is also not permitted under tatkal reservation scheme.
The Indian Railways keeps aside a certain number of seats for the tatkal quota, if the seats are still empty apart from the tatkal quota, then these seats are allotted to passengers in waiting list. If a tatkal passenger is on waiting list he will get a seat before other normal passengers. Thus tatkal reservation is a useful means to get tickets in hurry.