Over the past two and a half decades Indian Railways has evolved tremendously catering to all segments and reaching out to the remotest possible destinations, thus truly called the Life line of the nation.
The first railway ran between Bombay and Thane covering a stretch of 21 miles in the year 1853. The first passenger train steamed in 1854 from Howrah station to Hooghly thus covering a distance of 24 miles. The Madras Company followed suit in 1856, opening lines between Veyasarpandy and Walajah road. These small beginnings in due course of time gave way to a massive rail network in the Indian Sub Continent. By the year 1880 the Indian Railway system had route mileage covering 9000 miles in total, thus becoming Asia's largest and the world's second largest network under single management.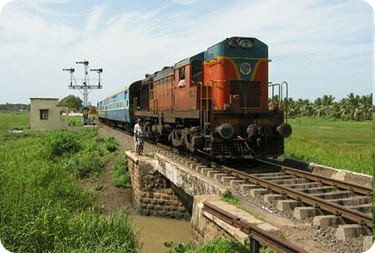 The Indian Railways falls under Central Portfolio with a separate ministry for railways, with state ministers for each respective state.
The centre has effectively managed the rail network by Readjustments of zones into seven zones and several in house reforms. A round the year Rail Vikas Yojna aiming at strengthening the system by providing higher speed trains, connecting ports to hinterlands, constructing bridges and broadening of lines and standardizing them goes on.
Safety of about 13 million passengers has always been on priority list of rail ministers, the success in this regard however remains unmeasured as several train accidents – mostly a result of human errors that prove fatal – have been increasing day by day. The present onus of security of passengers lies with Railway Protection Force and Government Reserved Police.
Despite the death toll on a rise due to train accidents and mishaps, the Indian Railway System deserves a thorough round of applaud because of its speedy development and commendable service. To polish the sharp edges and get a well rounded system public vigilance and responsibility shall be called for.