Rajdhani as the name suggests means "The Capital" and it connects the capital-New Delhi to all the other important cities and metros. It is a long distance train that runs at 130 kmph and at an average of 87 kmph.
It was introduced in the year 1969. The first Rajdhani left from New Delhi to Howrah covering 1445 km in 16 hours 55 minutes.
It is a high priority train that is given privilege over all the other trains like giving clearance to move first. These are fully air-conditioned and complementary meals are provided to all the passengers. Depending on the duration of the journey and the time-lunch, high tea, dinner, morning tea and breakfast is given. 110 V AC power points are provided for charging mobile phones and laptops during the journey. Since this a luxury trains so the fare is higher than the other trains.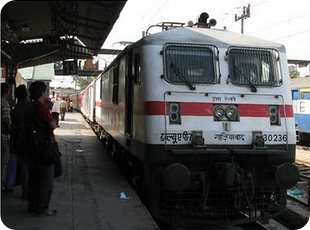 Most of the Rajdhanis have all classes of accommodation AC first class with 2 or 4 berth lockable bedrooms, AC 2tier with open-4 berths on one side and 2 berths on the other with curtains, AC 3 Tier with open berths-6 berths on one side and 2 berths on the other with no curtains. Facilities vary slightly as per the class. Like:
AC Three Tier
Neat and clean pillow, two white bed sheets, blanket and a hand towel.
Mineral water
110 V power ports for laptop, mobile chargers.
Periodical cleaning of toilets & passageway.
Train attendant at call in every coach
Increased level of security with no extra passengers / hawkers from outside allowed.
AC Two Tier: All the above mentioned facilities plus curtains for individual sides.
AC First Class: All above-mentioned facilities plus
Increased level of privacy with lockable cabins housing 4 passengers.
More choices on food that are different from other classes
Floor mats and Carpets
Spacious interiors and
Good level of comfort.
As of now India has 21 Rajdhani trains. Some important stations have more than one Rajdhanis running from their stations.