There is no doubt about the fact online services with regard to the Indian Railways have scored fairer as compared to over the counter services. Nevertheless there are a large number of passengers who still choose to make their reservations through the manual reservation counters.
A reservation form can either be printed out or a form can be obtained from the counters itself. Reservation must always be made in advance or else one has to be prepared to be flexible about the train, berth and days along with timings of travel.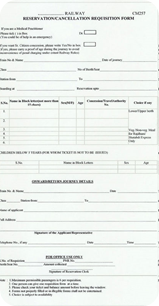 Online booking is always recommended as the long queues and the crowd; topped by the cold attitude of the Railway officials make matters worse. Nevertheless we must not forget that there is one segment of the society who cannot access the internet neither are they so educated that they can avail such high end services.
A manual reservation form often also available in mother tongue along with local languages; comes handy to this illiterate segment. Form filling starts with providing personal details. There is also an option for senior citizen concessions; a senior citizen needs to carry a proof of age during the journey.
Other important details like personal details and details of train and journey date are to be filled properly. Details of the person if other than the passenger is filling the form are to be filled.
Thus we see that reservation form is a small packet with great information in a well composed manner. Care must be taken while filling in this form as any incorrect information might lead to confusion and chaos. This same form is also used for cancelling of tickets.
In conclusion it can be said that the Indian Railways has for sure captured the inclination of all segments of society, be it the internet friendly class or the paper savvy mass, and has arrangements accordingly thus providing enough fuel to the nation's lifeline.