Indian Railways aim to provide fresh food to the commuters to make their journey as comfortable as possible through the help of its subsidiary-IRCTC (Indian Railways catering and Tourism Corporation). IRCTC provides fresh meals facility within the express train.
IRCTC aims to improve the quality of food services and be customer oriented. It also takes care of the logistics for such food services very well and brings efficiency in the whole system. It also takes feedback to bring in changes to satisfy its customers.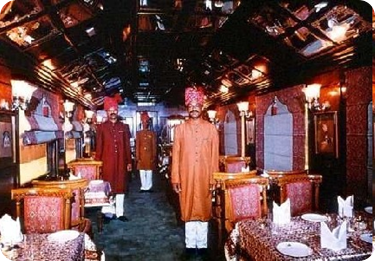 The Indian Railways also has a tie-up with R.K group that has multi cuisine food plaza in several stations with a great ambience, a 24 hour facility and competitive pricing on food items. Food can also be ordered from the train and it is delivered at the next station that has the Food Plaza. They provide food to Shatabdi and Rajdhani.
The Indian Railways also has its own packaged drinking water to prevent passengers from purchasing water from any and every station.
The Catering facility is provided in all passenger trains in India. The new railway policy says that even the least privileged passengers should be provided with catering services in a socially responsible manner.
All major meals are served after the order has been taken. Care is taken that vegetarian and non-vegetarian food is served separately keeping in mind the religious sentiments of India. The food is served in seat and a pantry van is provided where all the meals are prepared fresh. Besides that snacks are also peddled throughout the day and hot and cold drinks are also served at regular intervals. Even at the stations there are several food stalls that serve a variety of products as they have a tie-up with the IRCTC.