Palace on Wheels is the most luxurious train in the world and is an experience in itself. It is a joint venture of Rajasthan Tourism Development Corporation and Indian Railways. It offers tours of the princely states and the cities to enjoy the grandeur of Rajasthan and Agra. The elegant coaches the beautiful design is modeled on the personal railway coaches of the erstwhile princes of Rajputana and Gujarat, Nizam of Hyderabad and the Viceroy of British India.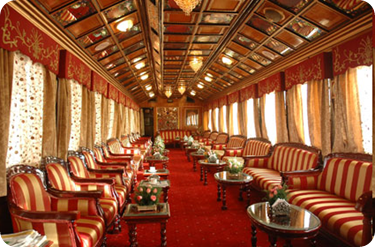 Palace on Wheels takes a ride through the beautiful and culturally rich states of Rajasthan and offers a royal experience in its cream salons decorated with beautiful fragrant flowers. There are 14 coaches that are named after the Rajput states like Kota, Jaipur, Udaipur, Jaisalmer, Jodhpur, Bikaner, Alwar, Sirohi, Kishangarh, Bundi, Dungarpur, Bharatpur, Jhalawar and Dholpur. Each coach is done in colors that are representative of the state it is named after.
The passengers are treated royally and are provided with the best of facilities and comfort. It has a bar with the best Indian and International spirits, a lounge with a good book collection, a television and DVD player. Cabins are air conditioned with twin beds, DTH television that shows all channels, an intercom and attached toilets with hot and cold running water is also there to add to the comfort. A truly grand experience!
Traveling is mostly at night while in the day time the train that starts from Delhi Cantt stops at Jaipur, Jaisalmer, Jodhpur, Sawai Madhopur, Chittaurgarh, Udaipur, Bharatpur, and Agra covering all these destinations in 8 days.
Earlier only the foreigners could avail the tickets but now it has been opened for Indian citizens although the tariff is still quoted in dollars.