The 'Garib Rath' was started by the Indian Railways in 2005 by the then Railway Minister Lalu Prasad Yadav. Since the poor man cannot afford expensive trains such as Rajdhani and Shatabdi, the Garib Rath or 'the Poor Man's Chariot' provides the poor with a full AC facility. It also runs faster than most super fast trains with a 130 km/hr speed that is the same as Rajdhani. However, the passengers don't get blankets and pillows unless they pay extra for them.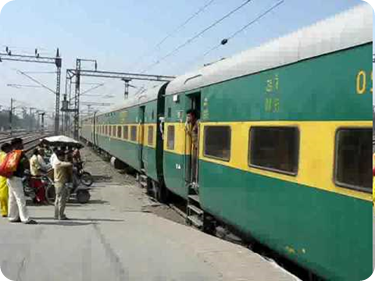 The Garib Rath has several additional amenities and highlights like Fridge, Microwave Oven, Television, Cooler, Fans, and Toasters. The electronic displays show distance remaining, the next station's name and the expected time of arrival at the stations. Beautiful paintings of Indian heritage decorate the coaches and add to its beauty. Garib Rath has improved the connectivity between important routes.
The trains have 3 Tier berths and Chair Car (CC) seating systems. Currently these services are offered in 36 stations that cover most of the major cities in india- Mumbai Dadar, Sainagar Shirdi, Bangalore City Junction, Pune Junction, Nagpur Junction, Jabalpur, Mumbai CST, Lokmanya Tilak Terminus, Kochuveli, Saharsa Junction, Amritsar Junction, Kathgodam, Jammu Tawi, Kanpur Central, Bapudam Motihari, Varanasi Junction, New Delhi Anand Vihar, Delhi Sarai Rohilla Station, Mumbai Bandra Terminus, Yesvantpur Junction, Rajendra Nagar Bihar, New Delhi Hazrat Nizamuddin, , Kolkata, Patna Junction, Guwahati, Lucknow NE Station, Raipur Junction, Bihar Jaynagar, Chennai Central, Secunderabad Junction, Vishakhapatnam, Hatia, Bhubaneswar, Ranchi, New Delhi Railway Station, Puri, Jaipur and Chandigarh.