Shatabdi Express trains are fast passenger trains in India that connect metros to other cities important for tourism, business or pilgrimage. Shatabdi is short to medium distance trains that run at an average speed of 130kmph. It runs at a peak speed of 150kmph which makes it the fastest train in India.
Shatabdi means centenary in Hindi. This train was launched to mark the centenary of Pandit Jawaharlal Nehru on his birthday in the year 1988. It first operated from New Delhi to Gwalior then extended to Jhansi Junction and finally to Bhopal Junction. Now Bhopal Shatabdi Express is the fastest train in India that runs at an average speed of 110kmph and in a few stretches, at 150kmph also.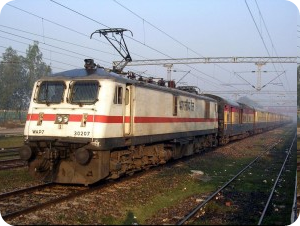 Since it is the fastest train it is given some privileges like it is given priority for clearance than other trains and berthing at best platforms at the stations. It usually stops at the Number 1 platform. It has only a few intermediate stops. Functionally, it's very good for the business class since these trains return to its station of origin the same day. The luxury train is fully air conditioned and has no general category. It also serves snacks, meals, coffee, tea, juices and a litre mineral water.
There are 12 pairs of Shatabdi that operate, out of which 8 run from New Delhi and connects Bhopal, Lucknow, Ajmer, Dehradun, Amritsar and Kalkaji, 2 from Chennai to Bangalore and Mysore while one each from Kolkata to Ranchi and Mumbai to Ahmedabad.
A low priced version of Shatabdi was later introduced called Jan Shatabdi for the poor man and a more luxurious variant is the Swarna Shatabdi Express.