Indian Railways has the biggest railway network in the world. They are trying to improve the systems even further and making best of the facilities available to its passengers. Now if you want to spot your train and track the running status of your train you needn't go to the station to enquire but just go to the following sites with online tracking systems, where your trains can be easily tracked along with their arrival and departure time.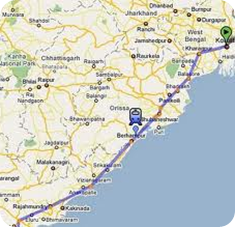 www.indianrail.gov.in
http://www.indiantrains.org/spot-your-train/
Your train can be tracked by just entering the train name or number for which you require the status and the train details with the arrival and departure time will be reflected. The status is updated every few hours and is extremely convenient to get information.
Another way of tracking your training running status is by dialing 139 for www.indianrail.gov.in or 1335 with your STD code for www.trainenquiry.com, a toll free service on mobile. You will just have to follow the IVR or the automated Voice Response which is available in different languages. Just type in your train number or follow the voice response to know the train name and all the information related to your Train's status will be made available to you.